Smart Vertical Farms in Korea have been springing up lately. These farms grow plants that do not need sunlight or soil. Korean startups NextOn and Farm 8 are becoming vertical farming leaders in South Korea. They both aim to provide fresh, sustainable, local food all year round. Seoul is one of the biggest cities in Asia and it is slowly becoming a food desert. Access to fresh healthy food is a challenge. At its essence, vertical farming enables local food production at scale.
The vertical farms made by NextOn and Farm 8 and other vertical farms can grow plants using 90% less water than traditional farming. More importantly, they can grow without pesticides, herbicides, fungicides, while having a great fresh taste. These smart vertical farms grow plants using hydroponics, LED light, and algae as a growth medium. Therefore they are able to shorten the growth cycle to half the time vs. traditional farming. In addition, they use vertically stacked beds which produce more products per square footage.
NextOn Creates Vertical Farms in Korea Under a Mountain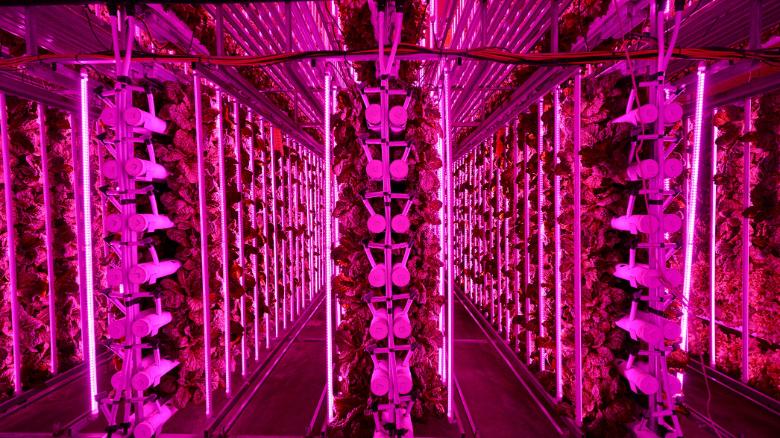 A smart vertical farm has been built under a mountain in South Korea. It is inside an abandoned tunnel which was once used as a highway tunnel. Now the tunnel (600 meters in length) is used to grow fruits and vegetables. In addition to LED lights, NextOn also plays classical music to encourage their plants to grow. Studies show that food grown from vertical indoor farms are safer and more nutritious. The farm is separated from natural pollution, pests, and pesticides that traditional farms have to deal with. In addition, these vertical farms have constant temperatures so there is little need for cooling/heating. As technology continues to improve, vertical farms will be able to grow a wider range of fruits and vegetables.
"The world's population is only going to grow but the environment is only getting worse to grow various vegetables, so I think vertical farms will be the only alternative to provide healthy food to our table in the future," said the CEO of NextOn.
Farm 8 Creates Vertical Farms in Korea for Subway Stations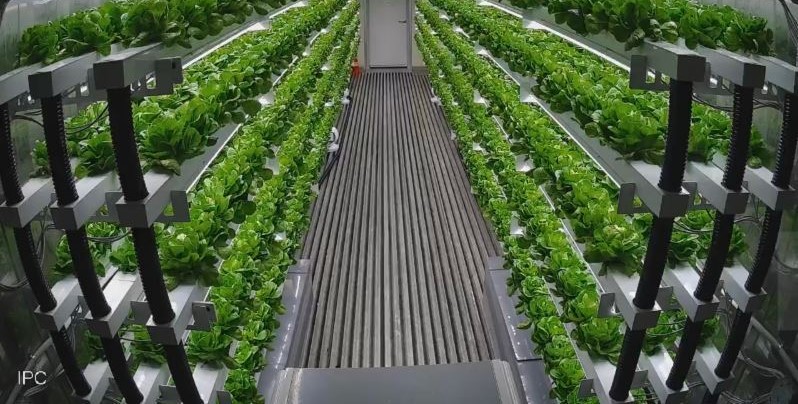 A Seoul subway station near Sangdo now has a vertical farm thanks to Korean startup Farm 8. There are more on the way as Farm 8 has formed a partnership with the Seoul government. They grow 8 types of vegetables. Trays of hydroponics composed of algae, water, and nutrients are used to grow the plants. In addition, the vertical farm has a filtration system to keep Seoul's fine-dust particles out of the farm. Therefore the vegetables have higher amounts of vitamins and minerals compared to regular vegetables.
The vertical farm (400-square meters in length) is divided into 4 separate zones.
The 4 Zones:
Main facility – Placement of the vertically stacked farms.
Secondary facility – This is smaller than the main facility and is inside a shipping container.
An education space – The space to educate children. There is a classroom that offers puzzles, stickers, and workbooks that teach about the benefits of having a balanced diet.
Produce Store – This will be an outlet where consumers can buy and consume the different types of salad dishes on-site. They offer a salad bar and different types of healthy juices as well.
Farm 8 is in partnership with 70 farms in Korea. They sell close to 40 tons of packaged salads per day. Some of their clients include Starbucks and GS25, which is Korea's leading convenience store chain. Therefore they offer their products to the Korean market and offer their vertical farm hardware to the global market. They offer vertical farms of all sizes from refrigerator-sized to 40-foot containers. These container farms cost $130,000.
The Future of Vertical Farming in Korea
Data and technology are being used not just for vertical farming but for all of agriculture. Soon these vertical farms will be able to work with data companies to analyze millions of data points which will allow for unprecedented control over the plants they grow. Plants can be manipulated with different types of lighting, temperatures, and water. This brings out different colors and even flavors from the plants. These vertical farms can not only grow leafy greens but also fruits and vegetables. The key moving forward will be to create interconnected devices that can process the data in real-time. These vertical farm startups in Korea will need to partner with the right data company because data and technology are the future for all of agriculture. The next generation is to go global and potentially feed the world on a global scale.
---
John is the Founder of Seoulz. He has covered the startup, tech & blockchain scene for over 7 years and has written over 700 articles regarding the Korean startup ecosystem. John is also a Web Developer and certified AWS Solutions Architect. Email him at john@seoulz.com
All author posts