Startups in Korea tend to focus mainly on Naver SEO/SEM (Search Engine Marketing) and not so much on Google SEO (Search Engine Optimization). This is understandable since most are marketing to the Korean consumer who overwhelming use Naver. However, no one outside of Korea uses Naver. The majority of the people around the world use Google. The power of Google SEO for startups in Korea is immense and highly underutilized. Many startups in Korea need to utilize Google SEO to bring more awareness about their company on a global scale. Having a strong presence on Google will help startups attract global investments, partners, and potential global customers. Even if the startup's customers are Korean, they might want to expand out of Korea and into the global market at some point in the future.
Google SEO for Startups in Korea
Google SEO takes time and it is better to get started early to reap the benefits in the future. Seoulz started in mid-2019 and now we rank #1 on Google for over 100 keywords related to the Korean Startup Ecosystem. We started out writing a few articles a week and went from 5,000 views a month to now having over 200 articles bringing in over 150,000 views a month. Guess what, these numbers are purely from Google search results. We just recently started doing social media but this goes to show just how much traffic you can get from Google alone.
The more articles we write, the more views we get. Best of all, these numbers won't go down because our articles are Google optimized to stay on top of Google search results. Each and every article is focused on a targeted keyword phrase and through SEO eventually end up ranking #1 on Google in a few months. This is totally different from press release articles that companies in Korea are obsessed with. However, these are only temporary and after a few days will get lost in the other millions of press releases throughout the week. Press releases have little staying power on Google! 
Businesses Spent Over $134 Billion in 2019 on Google Ads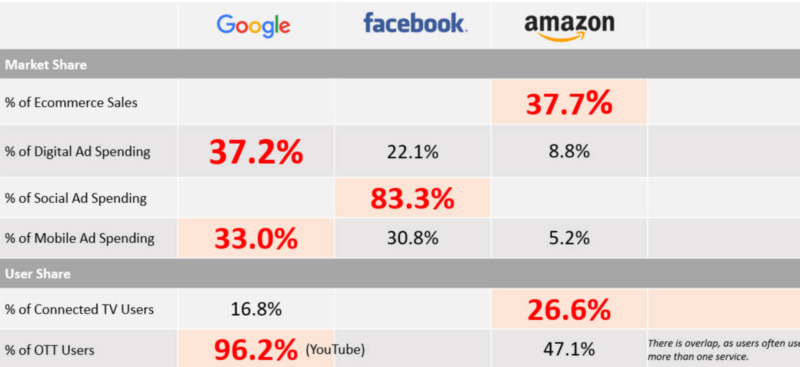 When it comes to ad revenue, Google and Facebook reign supreme. As far as search engines are concerned Google owns a dominating portion of the search market (86%) than competitors like Yahoo, Bing, Baidu, and DuckDuckGo. Naver is not considered a competitor to Google when it comes to the global market. Therefore, Google is the most visited site in the world. In addition, they have over 1.5 billion Gmail users and also owns YouTube. To rank #1 on Google for a typical keyword will cost a business on average $4,000 a month. You might have noticed these ads when searching for something on Google. It says on the left-hand side "Ad". Companies all around the world spend thousands of dollars a month just to be placed #1. 
Now ask yourself…Do you click on these Ad Links?
Or do you skip the ad results and try and find an organic result? Those that skip the ads probably understand that the business paid to be ranked so high. While the organic results are the ones Google has ranked high based on the content. This is why there are so many SEO consultant companies that charge high fees for their SEO expertise. Many of these sites charge $2,500-5,000 a month!
There are advantages to both paid and organic search results. 
Advantages of Paying Google for Keyword Ranking 
It will generate instant results. Since it will be ranked #1 on Google many people will click the link because it is the first link they see. Even if they skip the link they still see your business resulting in brand exposure. However, one of the main advantages is that you will get quick results. Compare this to organic results which can take up 6 months to sometimes a year to work its way up Google rankings. 
Advantage of Organic Keyword Ranking 
The main advantage of having your content rank #1 organically is that it will cost you nothing. It will just require a lot of hard work. It will for sure deliver a more impressive ROI than a paid ranking. In addition, it will boost your brand's credibility because consumers will know Google regards your content as high quality. 
Snippet Optimization – Ranking #0 on Google
When creating organic content the goal is always to end up being #1 on the first page of Google. However, what many don't know is that there is actually a rank 0! Yes, you heard that right, ranking #0. These are called snippets and I am sure you have seen these from time to time when you were searching on Google. Snippets are featured box organic results that Google feels has the best content for that keyword. Seoulz has many of these snippets, here is an example below.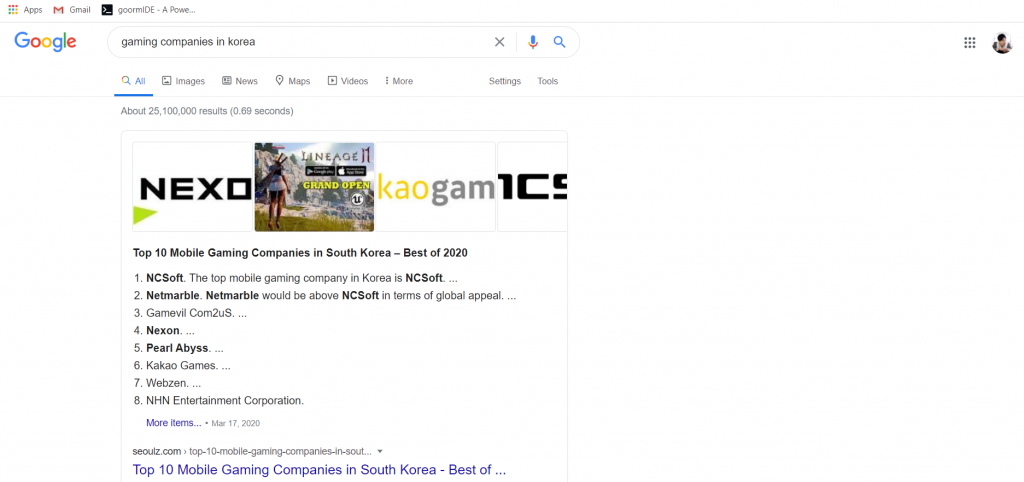 This is a snippet for "Gaming companies in Korea" and it is pretty easy to see why snippets are highly valued. It literally takes up the whole screen, you actually have to scroll down to see any other search result. The only negative about snippets is that the click rate is slightly lower due to the fact that the user gets most of the information from the snippet, which means less traffic to your website.
The Power of Google Snippets for Startups in Korea
If a user does decide to click on a search result they will click on the Snippet in a vast majority of the time. Snippets take up close to 80% of the clicks which leaves the other links to fight for the remaining 20%. In addition, companies love snippets because of the brand exposure they provide. To be honest, that is what Google really is selling…brand awareness. Most Google ads don't return the value in terms of sales but return vast amounts of value in terms of brand exposure. Being at the top of Google whether it be #1 or #0 offers tens of thousands of dollars a year in brand awareness.
Close to 25% of Google searches show snippets and to get a snippet there are a few steps to follow. We don't give out all our secrets but in general, make your posts on "Guides", "How-tos",  "lists", or "rankings". When we consult clients we go over the best strategy for each article and input the key features we know Google likes to give it the best chance of getting a snippet.
Businesses in Korea need to Understand the Importance of Google SEO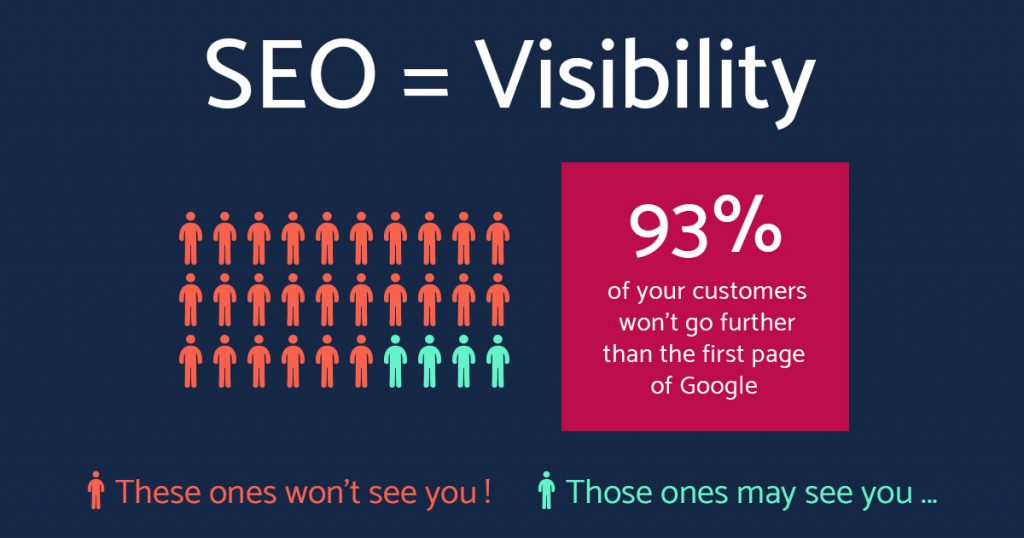 Many startups, businesses, and brands in Korea don't fully understand the importance of SEO and the benefits it will bring. Google SEO for startups in Korea not only improves the company's overall searchability and visibility, but there are other factors to consider. Imagine you are a startup in Korea and but lack any presence on Google. When you meet global clients, these global clients are not going to be using Naver, they will search you on Google. If they can't find any information about your company on Google, that looks very bad. If you are posting content but you still do not show up on Google, then you probably have a low Google authority. 
Google Authority
Many factors go into establishing a high authority on Google. This authority takes time to build and many startups in Korea are impatient. Why spend so much time working on content to rank organically when you can pay Google to get the content ranked? The benefits of organic results offer so much benefit in the long run. Why pay $4,000 a month when you can have content that will stay ranked high on Google…forever?? Think of how much money you will save and the leads you will be able to generate? 
So the question is, are you willing to put in the time? Seoulz put in a year and NOW we are starting to see the results. Establishing a company as an authority in a particular industry takes effort, commitment, and most of all patience. 
The Seoulz SEO Strategy
Seoulz works with businesses in Korea to create content for keyword phrases that match their business. The process is very simple. We meet with businesses and come up with 5 keyword phrases for their business. We work together to create high-quality content that can rank #1 on Google. After the content is created it is run through our checklist which we optimized over the year.
This checklist is used for all Seoulz articles and is the main reason why Seoulz ranks so high for some of the top keyword phrases in Korea. You can call this our "secret formula." This checklist is constantly being updated and we monitor for changes to stay ahead of the competition. Being aware of the major algorithm changes on Google is a never-ending process.
Once everything is set, the business has a choice to either publish the content on Seoulz or on their website. 
Advantages of publishing the content on Seoulz
The article will have a faster track to ranking #1 on Google. Seoulz has an established Google authority and most articles (depending on the keyword) can rank on page 1 of Google in 2 months. This is much faster than the typical 6-12 month time frame from publishing on a new website. In addition, Seoulz will constantly optimize the article every month for on-site and off-site SEO. 
Advantages of publishing the content on your own website 
The article will bring traffic directly to your website and the business will have full control over the article. They can choose who to link to and can grow their content over time which will bring a higher Google authority to their site. In addition, your first backlinks will come from Seoulz! 
SEO marketing in my opinion is the best form of marketing. Companies in Korea love press releases and social media shoutouts but these forms of marketing only last a few days and pretty much goes away. The best part is that SEO is relatively cheap, especially when you compare it with other marketing schemes. When you compare the low cost with the big payoff, in the long run, SEO marketing should be a no-brainer. Startups in Korea need to think of SEO as a real business investment. Good SEO will bring value to the company for years to come. 
Why Business in Korea Don't Focus on Google SEO
Besides wanting to focus solely on customers in Korea, businesses in Korea like seeing instant results. Managers need to report to their superiors and in Korea, if you can't show short-term results, you are not doing a good job. The mentality of many companies in Korea is that if they don't see instant results, it was a failure. 
SEO is a long-term strategy that only a few people in Korea truly understand. SEO can have a noticeable impact in as little as 6 months and can bring a valuable impact that lasts for many many years. However many businesses in Korea do not look too far ahead into the future because if they don't produce results within a few months, they will probably need to find another job. 
To rank organically on the first page of Google takes time, many companies in Korea don't want to invest too much of their time for the long term payoff. In fact, many businesses in Korea don't even have an SEO budget! Furthermore, most businesses in Korea don't have people that know how SEO works and are too busy to spend time learning about how to utilize SEO for startups in Korea. 
Gateway to Global Connections
The biggest benefit of SEO in my opinion for startups in Korea is that it will bring new opportunities that they can leverage. As the world uses Google to find answers, having your company show up on particular keyword searches can connect you with companies all around the world. Being on the first page of Google establishes your company as a leader in a particular industry. Google SEO for startups in Korea is very underutilized. There is a huge opportunity for startups in Korea to get on it NOW! The top major newspapers and media sites in Korea don't have English content optimized for Google! When will they wake up? Who knows? But we are glad they are doing the same old press release content while Seoulz grabs all the top keywords about South Korea.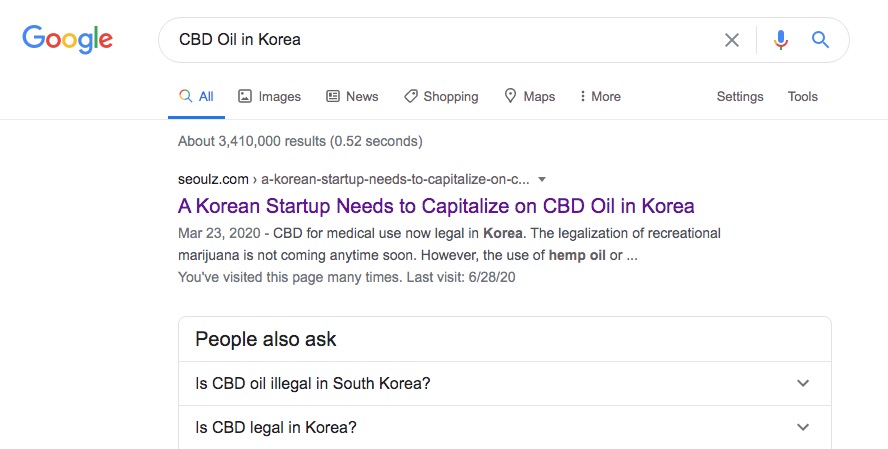 Here is a quick example. We wrote an article with the target keyword "CBD oil in Korea". The reason for this is the huge potential market for CBD in Korea many years down the line (Once CBD becomes legal). The article gets a steading stream of traffic, probably from global distributors looking to enter the Korean market. Once CBD takes off in Korea, this single article will not only get massive amounts of traffic but we could promote a particular company in Korea looking to get into the CBD oil business in Korea. 
Tips When searching for SEO Consultants 
Make sure they are able to prove their work. How? It is simple. Ask them what keyword phrases they worked on with their clients and search that keyword yourself.
Do they come up #1?
That is a good sign they know what they are doing. This is why when speaking with clients we tell them to search us on Google. Our results speak for themselves.
There are a lot of shady tactics used in the SEO space. Therefore, it is crucial you keep an eye out for deals that are too good to be true. One tip I can give you right off the bat is to watch out for link schemes, where a company will have many sub-blogs they will use to link to the article. This is a very common technique in the SEO industry. Basically they are trying to trick Google into thinking the particular article is important.
There is risk in this because you will open yourself up to a Google penalty. Your website could be virtually wiped out from Google's index. They use this technique because these backlinks are hard to get naturally. However, if your content is good enough it will naturally get links to it. One high authority backlink is worth more than a high number of low authority backlinks. This is why it is vital you have a sitdown and go over the exact strategies with your SEO consultant. Don't trust a consultant that says they will take care of everything. SEO content creation is best when consultant and client work together to come up with the right strategy. 
---
John is the Founder of Seoulz. He has covered the startup, tech & blockchain scene for over 7 years and has written over 700 articles regarding the Korean startup ecosystem. John is also a Web Developer and certified AWS Solutions Architect. Email him at john@seoulz.com
All author posts