In a little over 20 years, Esports has become a billion-dollar industry. Pro Esports players around the world are now treated like athletes and before COVID-19, Esports tournaments were being sold out on a regular basis. Sponsors into Esports have grown year after year which has injected a lot of money into the Esports ecosystem. In Korea, pro players are seen as celebrities and Esports has not slowed down due to the pandemic. More people are playing video games than ever before? Just try to buy the latest Play Station or Xbox console….you can't because they are all sold out. With so much interest in Esports, it is no wonder there is now a daily fantasy Esports platform for fans called XP Fantasy.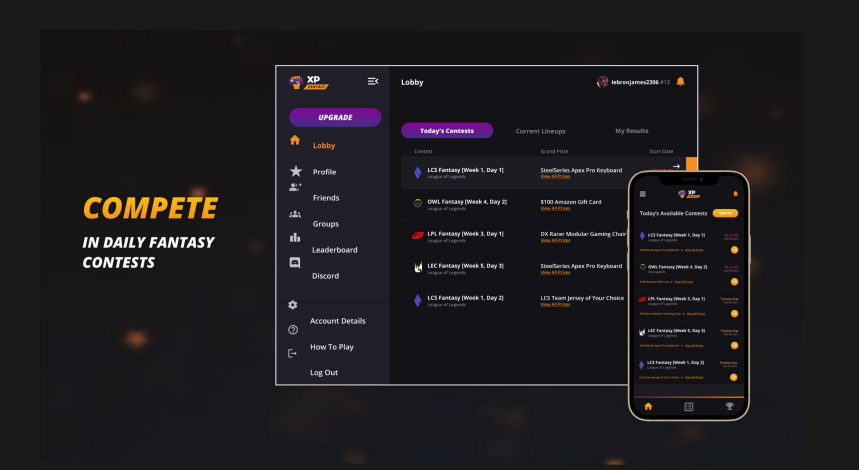 The Rise of Esports
Esports viewership has risen in popularity over the past 20 years. It is now estimated that the total global fan base of Esports will hit 650 million fans by 2023. In 2019, the League of Legends World Championship set a world record by having close to 4 million peak viewers. That was beaten this year at the 2021 Free Fire World Series, a Garena Free Fire tournament in Singapore which had over 5.4 million peak viewers. In the U.S. alone, Esports is the 2nd most-watched sport behind NFL. Therefore it is surprising that daily fantasy sports for Esports have not yet taken off like it has for sports such as NFL, NBA, and MLB.
What is Daily Fantasy?
Daily fantasy is a way for traditional sports fans to be more engaged with a team or particular players. Fans can draft a lineup of professional players. Based on how well these players do, the fans will get score points, and based on these points they move up in rankings. It has been proven that fantasy sports have attracted more viewers to the sport because they are more eager to tune in to games to see how well their players are performing. Based on their fantasy lineup's in-game performance, users are ranked against one another with prizes awarded to users with the highest-performing lineup.
Biggest Players in the Daily Fantasy Space
Currently, the two biggest daily fantasy sports platforms are FanDuel and DraftKings. FanDuel was able to raise $1.2 million for their Series A round back in 2009. Then $4 million for their Series B round in 2011, and $11 million for their Series C round. DraftKings had a much greater backing with $9.8 million for their series A round in 2013. This was followed by a $24 million Series B round towards the end of 2013. Both companies had a massive 2014 with FanDuel raising $70 million for their Series D round and DraftKings raised $41 million for their Series C round. In 2015 FanDuel raised an additional $275 million while DraftKings raised $300 million. Therefore, in 2015 both companies were now unicorn starts worth a combined $2.2 billion.
Daily Fantasy for Esports
FanDuel and DraftKings are mainly focused on the big three sports of NFL, NBA, and MLB. They offered nothing in regard to daily fantasy for Esports. XP Fantasy is a daily fantasy Esports website for fans all around the world. Those that do not want to gamble but still want to win prizes. This is perfect for most Esports fans as many are under the age of 21.
Similar to daily fantasy sports, users can draft their team by selecting from a wide range of Esports pro gamers. Based on how well they do during their in-game performance, they can win prizes.
XP Fantasy offers a subscription-based fantasy Esports platform that allows users to enter more contests at a reduced cost. On XP Fantasy, users can win esports-specific prizes instead such as gaming gear, team merch, and live coaching sessions.
For those that want to give daily fantasy Esports a try, you can do a free month trial by using the code below.
Promo code link: 1MONTHKRW
---
John is the Founder of Seoulz. He has covered the startup, tech & blockchain scene for over 7 years and has written over 700 articles regarding the Korean startup ecosystem. John is also a Web Developer and certified AWS Solutions Architect. Email him at john@seoulz.com
All author posts