Global companies looking to enter the Korean market or Korean companies looking to advertise their product or service in Korea need influencer marketing. Influencer marketing agencies act as the middleman between companies and influencers. This is crucial for global companies that might have a language barrier when dealing with content creators. In our opinion besides Google SEO, influencer marketing is the best way to spend your digital marketing budget in Korea. This is because It is even hard for Korean companies to discover influencers in Korea, contact them (most don't speak English), select the right influencer for your brand, and then actually run the advertising campaign. It is so much easier to pay an influencer marketing agency in Korea to do the work for them.
Finding the right influencer in Korea is difficult if you don't speak Korean. There are thousands of influencers in Korea on Instagram, YouTube, and TikTok. Therefore doing research on them is very time-consuming. Research is important because some have fake followers and some aren't the right fit for your brand or campaign. Background checks are critical and this is what most influencer marketing agencies spend time doing for their clients. They make sure their client's brand and message lines up with the influencer so both will get value out of the campaign.
Influencer Marketing in Korea
There aren't many full-service influencer marketing agencies in Korea. By full-service, we mean agencies that help brands every step of the influencer marketing process. This even includes content creation and consultation. There are even influencer marketing platforms (web-based software) that brands can access. We will go into a lot more depth in the difference between agencies and platforms at the end of the article. Influencer marketing in Korea is effective because many Koreans trust the influencers they follow. It is this trust that brand rely on to sell their product or service. In addition, influencer marketing is overall a lot more engaging if it is done correctly. That is why finding the right influencer marketing agency in Korea is so important.
When ranking the top influencer marketing agencies/platforms in Korea we look into account five factors:
number of influencers/content creators
affordability
consultation/market strategy
ability to run ad campaigns and collect KPI in the process
post-campaign analytics for brands
The Top 10 Influencer Marketing Agencies & Platforms in Korea for 2020
1. InXmedia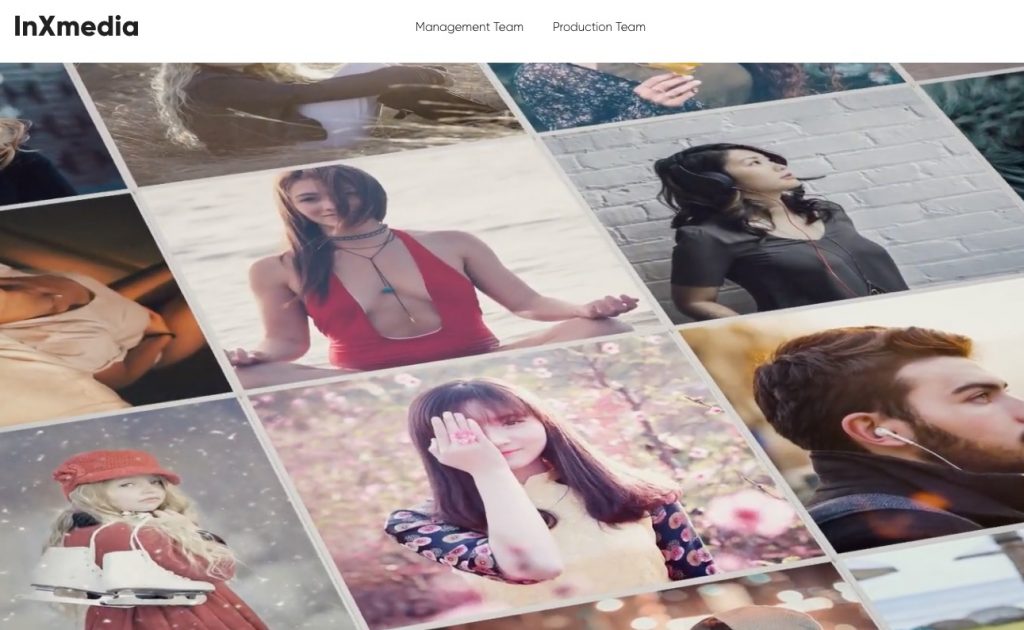 The best influencer marketing agency in Korea is InXmedia. They are a true full-service entertainment & marketing agency. The company offers consultation & campaign strategies from planning to execution. They have a proven track record for driving traffic and increasing sales. Platforms they specialize in are Instagram, Youtube, TikTok, and Naver. They are one of the few influencer marketing agencies in Korea that have a strong network of TikTok influencers.
InXmedia has worked with many eCommerce sites as well as beauty/fashion/game/travel brands. Those looking for help in organizing events in Seoul or wanting promotion for an event in Seoul should speak with the team right away. They have a team of graphic designers and content creators to help tell your story. Their price is 3-4 times lower than their competitors. Therefore those on a tight budget should think about using InXmedia for their influencer marketing needs. The best part is they have a strong English speaking team that can communicate with you easily to find your brand's needs.
In Korea, TikTok is heavily investing into marketing and growing a user base. There are more than a million TikTok users in Korea and they are increasing fast," said Co-Founder of InXmedia, Arthur Sabalionis.
2.  Marketit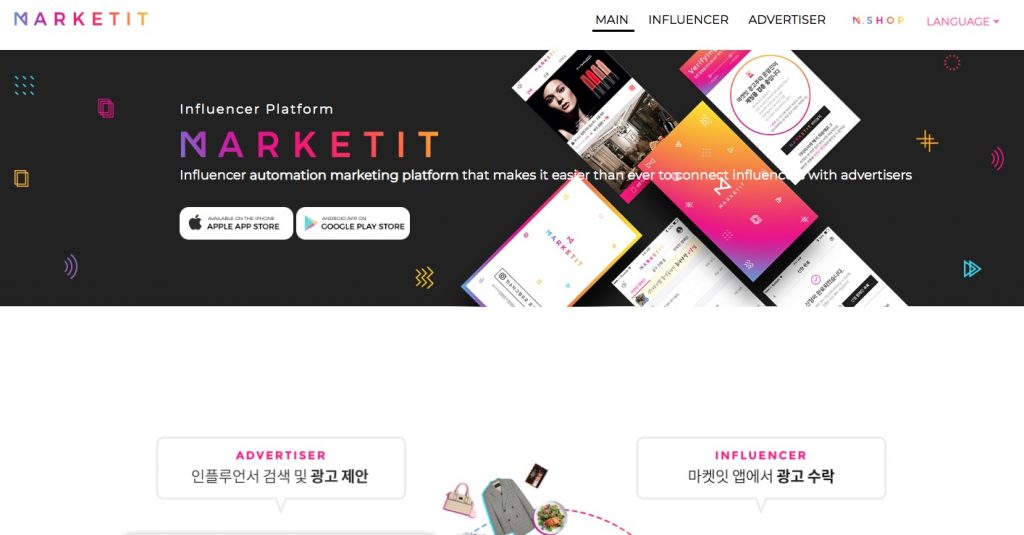 Marketit is the best influencer marketing platform in Korea that connects marketers and influencers. They have over 19,000 influencers which combined have over 300 million followers. Influencers log onto Marketit and they decided which marketing campaign jobs they are interested in. Brands will be able to receive real-time social media postings and reports on influencers on their platform. They offer a search function that allows brands more than 20 different filters such as the number of followers, advertising costs, gender, and location just to name a few. Brands can also check their data in real-time, such as:
the number of distribution contents
the total number of posts
the response rate
content achievements
content purchases
Marketit has worked with the leading Korean brands as well as foreign brands. Therefore the only thing a brand needs to do is create a great marketing campaign to attract marketers and influencers on the Marketit platform.
3.  Mediance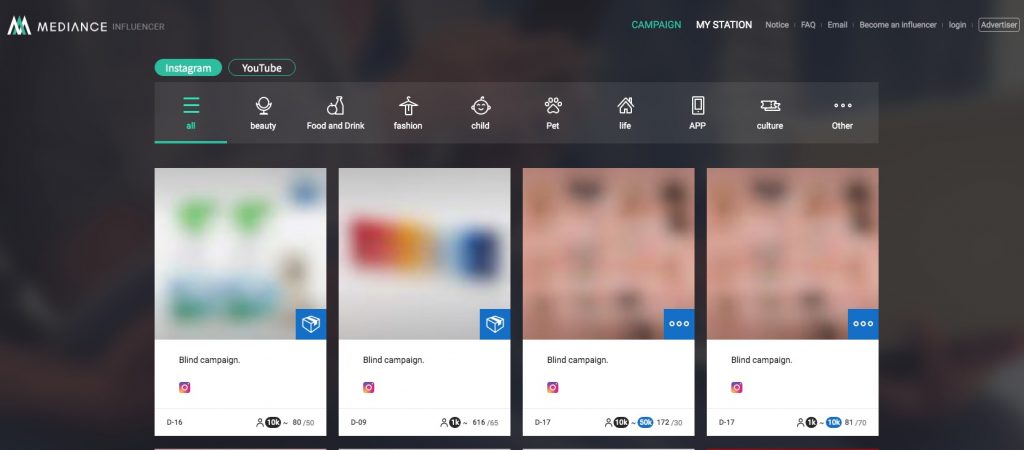 Mediance is the most popular influencer marketing platform in Korea. They have over 28,000 influencers with a combined total of 400 million followers. They offer influencer discovery, a campaign management system, and data analysis. Brands can be charged per posting. However, they only offer Korean language support. They specialize mainly on Instagram and Youtube campaigns. Brands will have the freedom to pick and choose the influencer they want to work with. They cover industries such as beauty, food & drink, fashion, infant, pet, life, and culture. You will need to sign up on their site and become a member to access the influencers. Therefore it is wise for the brand's marketing manager to have a high level of Korean fluency.
4.  The SMC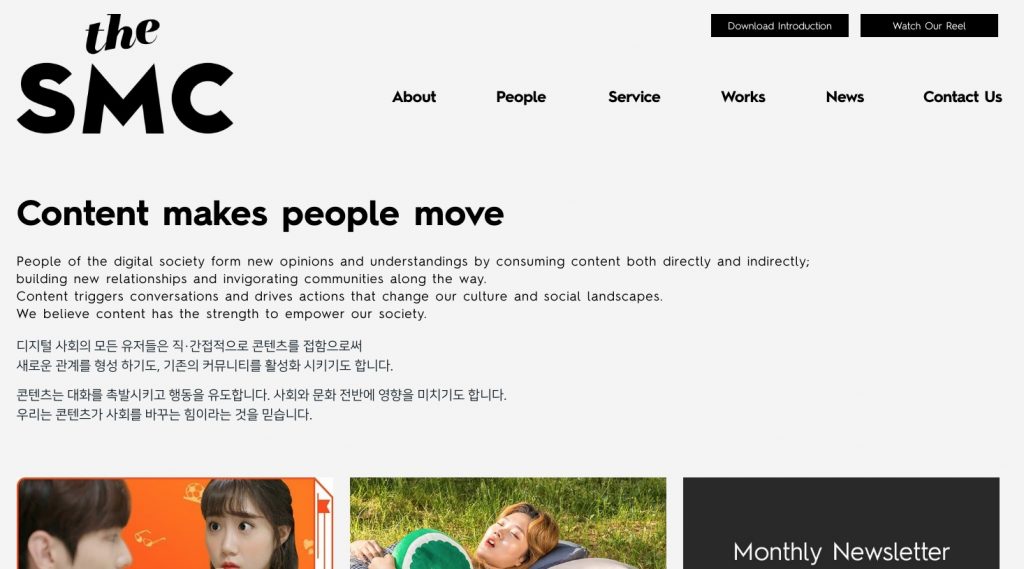 The SMC is an influencer marketing agency that offers digital content production and brand strategy. They are on the pricer side but they provide an effective one-stop solution for digital marketing in Korea. Their services include consulting, planning, producing, and spreading content. They have been in the social media marketing space in Korea for over 9 years and have an excellent reputation. Having produced over 100 billion won worth of various digital marketing projects for over 100 clients, SMC has gone on to produce their own content. Therefore, they can now be seen as a comprehensive new media company. If brands have the budget The SMC will work for you.
5.  Admax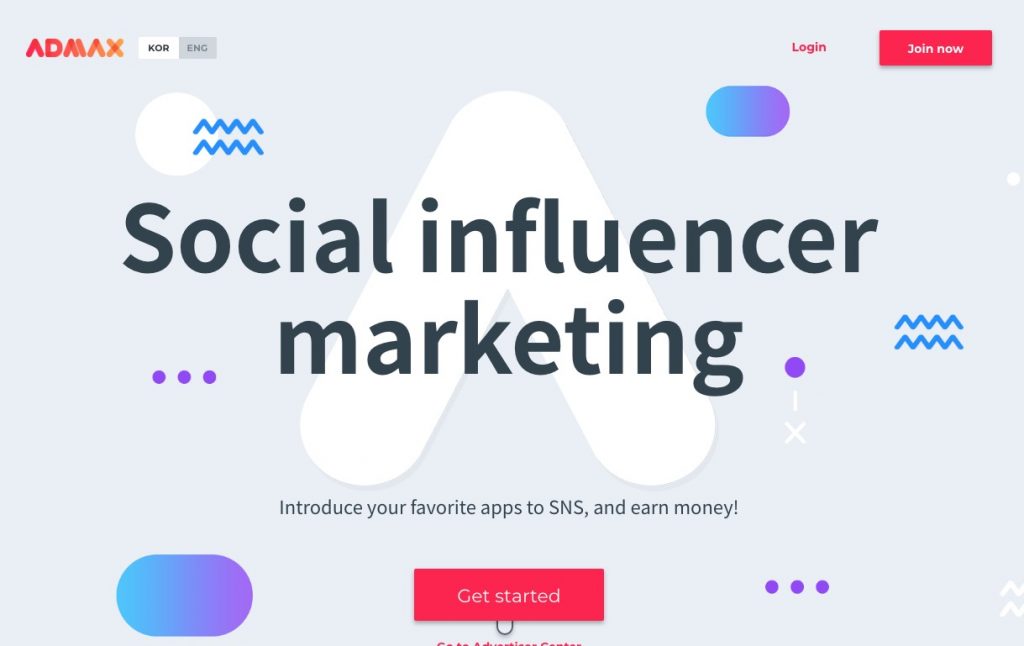 Admax is an influencer marketing platform in Korea that has a reach of 30 million users through various social media channels. They focus on mobile applications and CPI marketing. You will need to sign up on their site and then select your desired advertising campaign. There are hundreds of advertising campaigns to choose from. They have gotten reviews and is a very up and coming platform in this space.
6.  Celly Story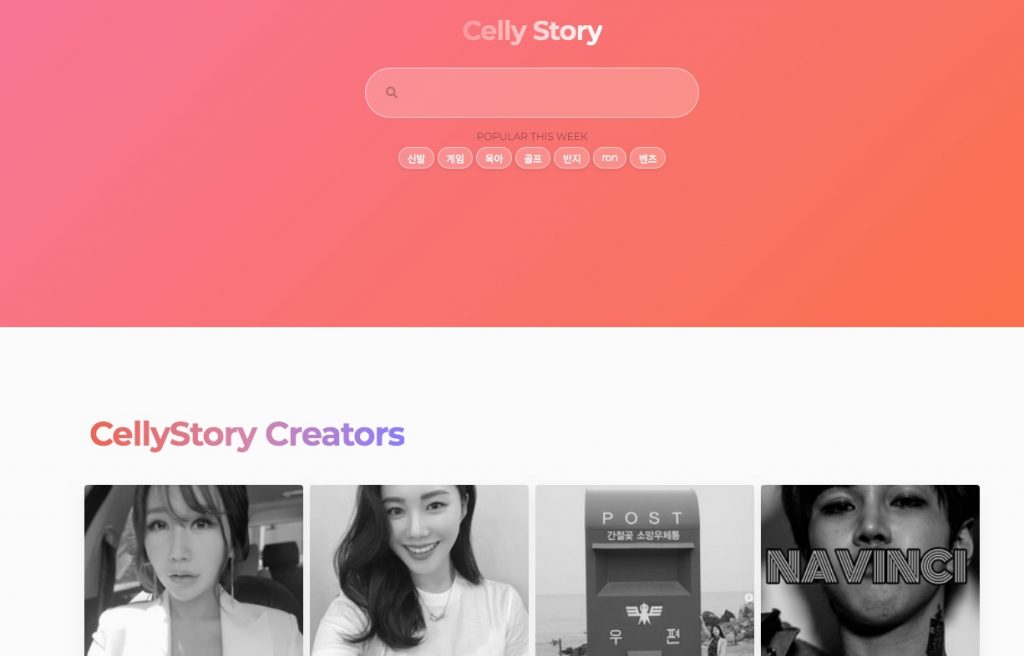 Celly Story is an influencer marketing agency in Korea that was founded by 10WONDERS MCN. Unlike many other sites, Celly Story showcases their influencers on their main page. You can browse through all their Korean influencers as well as some of the content they have produced. They are known for working with some of the top beauty brands not only in Korea but around the world. Most of their influencers specialize in beauty and fashion. Furthermore, Celly Story offers influencer management as well as online marketing services. Those that are looking to enter the Korean market as a beauty or fashion brand should look into Celly Story.
7.  Tagby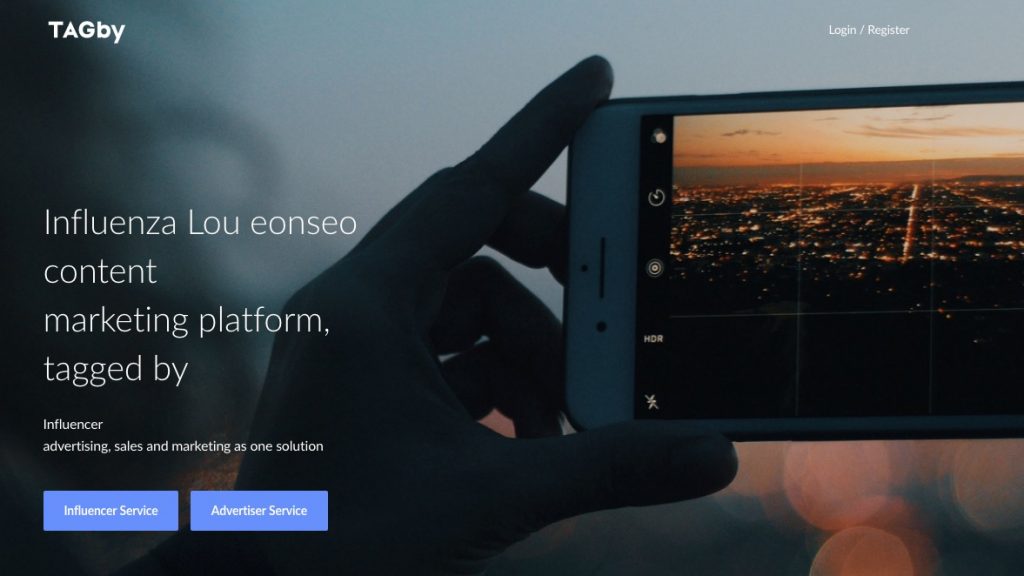 Tagby is an influencer marketing platform in Korea that is very similar to Mediance. They focus more on influencer filtering to eliminate influencers that have fake followers. Their site is focused on Koreans. Therefore they only offer Korean language support. Therefore, those that are looking to work with Tagby will need someone to speak Korean. Also to browse their site, you will need someone who can read Korean. It is not a bad idea to hire a Korean marketing manager and let them look into this platform before starting your marketing campaign in Korea.
8.  TK101 Global

TK101 Global is an influencer marketing agency that specializes in SEO for Naver, Baidu, and Youtube search engines. They are experts in Korean and Chinese SEO and digital marketing. They are great at working around all governmental red tape. Being ranked high on Naver is a must and TK101 are experts in Naver ads, Naver cafes, and Naver SEO. They also are great at raising brand awareness through Korean social media platforms like Kakao. In addition, they have a large KOL network not only in Korea but in China and Southeast Asia. TK101 Global also works with Blockchain companies looking to do marketing in Korea. Therefore those looking to enter the Korean market and then transition to the bigger Chinese market, it would be a wise idea to work with TK101 Global.
9.  ADPICK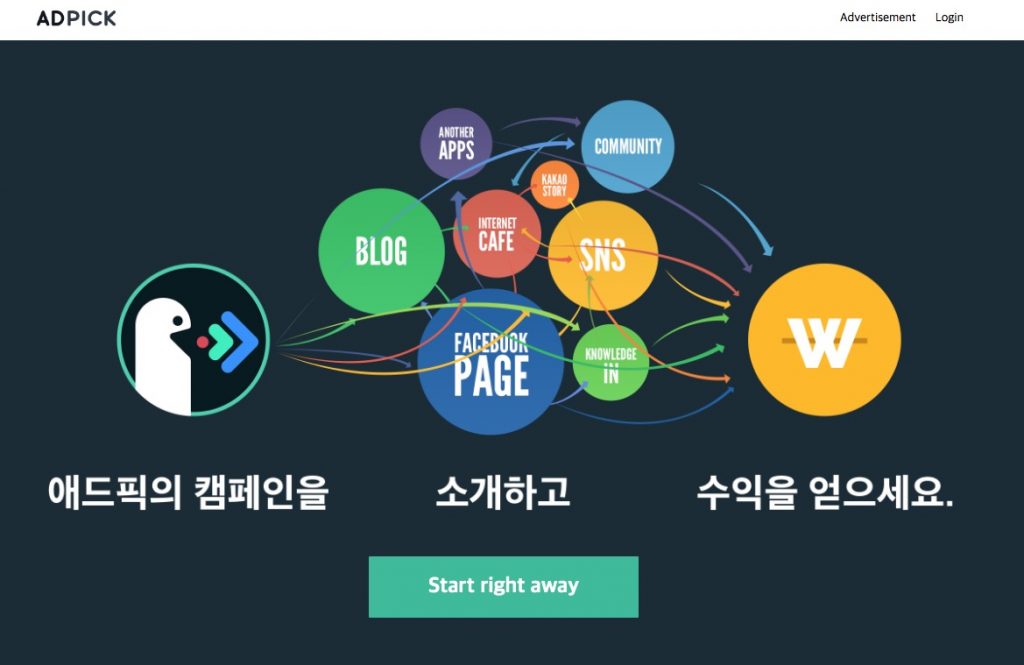 ADPICK is an influencer marketing platform in Korea where ordinary people can create content to promote a product or service. The platform helps ordinary people in their journey to become social media influencers. People log onto ADPICK and they don't need to post their resume, photo, or even have an interview. They are paid through results only. They will get a personal URL and then they can post it on their personal blog, Facebook, or Naver cafe. Therefore, whenever engagement occurs from the URL, the brands will pay the member. The platform offers brands a real-time revenue history of existing members. There is a real possibility that marketing platforms will use this formula moving forward and even incorporate Blockchain technology. Therefore this is a new platform that might take a few years to fully take off. However, those that use this platform now can take advantage of their price and access to influencers now before they get bigger.
10.  Smart Posting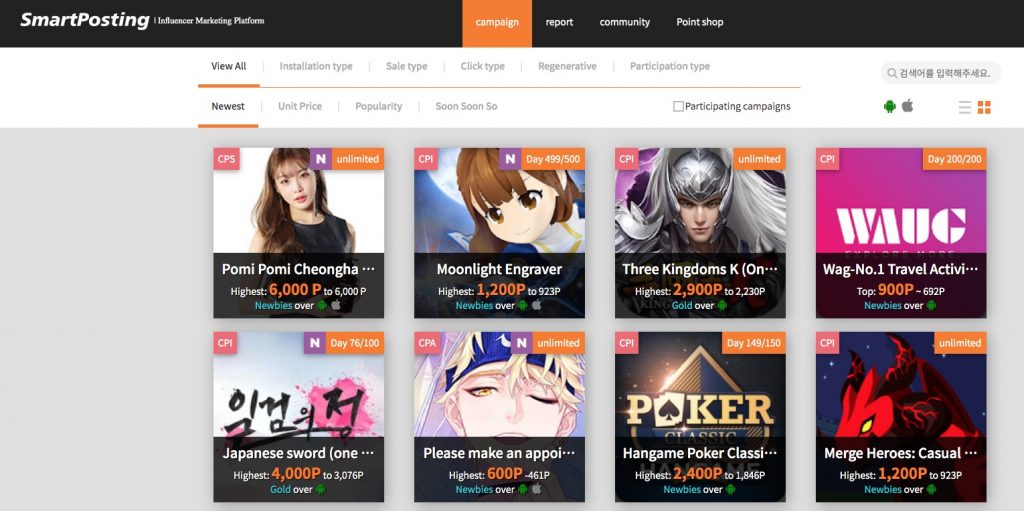 Smart Posting is an influencer marketing platform in Korea for gaming companies. Brands and marketers can upload campaigns, compensate influencers through CPI (cost-per-install), CPS (cost-per-sale), and CPC (cost-per-click). Therefore, those looking to promote their game or app in Korea should look for influencers on this platform. Many gaming companies in Korea are starting to focus on social media influencers to promote their latest game in Korea. YouTube and Twitch are famous for Korean gaming channels and is a great way to start a marketing campaign in Korea. With Smart Posting, you can filter the influencers based on price and popularity. However, the site is not very English friendly which makes it hard to navigate. This could change in the future which could open up even more opportunities for this marketing platform.
10 Major Differences Between Influencer Marketing Platforms & Agencies
Influencer Marketing Platforms:
While many micro-influencers use platforms to secure advertising deals, larger and more established influencers aren't as accessible.
A Platform's approach is similar to a Pay-per-Click campaign and can often undermine the appeal to authenticity that influencer marketing campaigns are specifically meant to offer.
When using an influencer marketing platform, brands are responsible for communicating directly with influencers.
Platforms don't offer campaign optimization services or recommendations.
Influencer Marketing Agencies:
Influencer marketing agencies are able to work with any influencer, regardless of size, reach, or affiliation.
They have extensive experience identifying, vetting, and selecting influencers that can meet a brand's image and marketing goals.
Influencer marketing agencies handle all communications with influencers.
Agencies work with influencers before, during, and after the campaign to ensure that best practices are observed and key performance indicators (KPI) are met.
Agencies are able to customize pricing based on the specifics of a campaign.
There is a concern that companies focus too heavily on platform automation and not heavily enough on what makes influencer marketing successful in the first place–authentic relationships between real people. Therefore, the key is finding the right balance between platform automation and human insights. Influencer marketing agencies are more expensive than using an Influencer marketing platform, however, you will get better support and work with industry professionals in the influencer marketing space. Therefore it all depends on your budget. A tip would be to start out using an influencer marketing platform to gain initial traction before transitioning to influencer marketing agencies.
Influencer Outreach in Korea
Those that are looking to contact influencers on your own, make sure you have someone who is fluent in Korean on your team. Emails are the best way to contact influencers in Korea but it must be written in Korean. You still need to research them in order to draft the email to intrigue them. Clearly explain your brand why you want to partner with them. Don't worry about getting into too much detail about your campaign idea. The first email should be used to establish communication. If they don't respond there is no point in sending a second email, instead try to reach out to them via direct message on their social media. Keep in mind that many influencers in Korea get hundreds of messages a week. To improve your chances of getting your direct message seen, try and engage with their social media posts first. Write a few comments (in Korean), so there is a higher chance you will be on their radar. Getting initial contact with the influencer is most of the work. Once you establish a connection, it is up to you to sell them about your campaign.
---
John is the Founder of Seoulz. He has covered the startup, tech & blockchain scene for over 7 years and has written over 700 articles regarding the Korean startup ecosystem. John is also a Web Developer and certified AWS Solutions Architect. Email him at john@seoulz.com
All author posts