The question that I get asked the most from foreigners in Korea is about setting up a business in Korea. South Korea has become an excellent location for global entrepreneurs and investors looking to enter the Asian market. Seoul, in particular, has become a global hub for startups passionate about technology and innovation. Furthermore, foreigners come to Korea filled with startup business ideas they feel can bring a lot of value to the Korean market. However, starting a business in Korea has more to do with just having a solid business plan. Therefore it is necessary for foreigners in Korea to have a guideline about the ins and outs of doing business in Korea and how to set up a business in Korea.
Information about setting up a business in South Korea can be difficult to find in English as most of the information is primarily on Naver and written in Korean. Therefore this article will give you a step-by-step guide to setting up a business in Korea.
5 Step Guide to Setting up a Business in Korea for Foreigners
Step 1: Check for Eligibility
First of all, foreigners can open a business in Korea if your visa permits you to. You can check out all the available visas in Korea here. Usually, these visa categories below are not able to register a business in Korea.
Student Visa
Employee Visa
English Teacher Visa
But the following visas usually permit you to open a business in Korea. If you have any questions regarding your visa, make sure to contact your embassy and they will be able to explain what you can and can't do.
Marriage Visa (f5)
Korean heritage Visa (F4)
Permanent Residents
Visa guidelines and requirements in Korea change often. Therefore, for your situation, be sure to check HiKorea which offers free advice when you call 1345, they are fluent in English.
Step 2: Choose your Business Structure
Korea has many business structures, similar to western countries but with some important differences. Therefore I have provided a summary of the main types and their general requirements are below.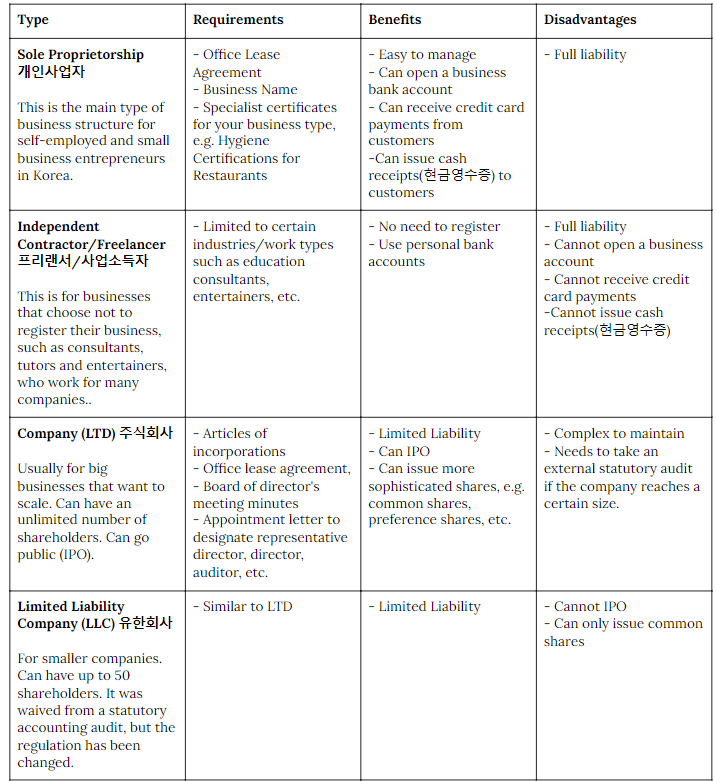 Step 3: Register Your Business
Next, you will need to register your business in Korea. For LTDs and LLCs, the requirements are complex and are best explained by your chosen financial or legal professional.
For sole proprietors, you will need to follow these steps:
Prepare your Alien Registration Card (foreign national card), Office Lease Agreement, Passport, and any other pre-requisite documents for your particular industry (example: hygiene certifications for restaurant businesses).
Visit your local tax office for registration.
Use the machine

 (번호표) at the entry to select a business registration service. 

Find the business registration form nearby and complete this prior to seeing the government official.
When called, give your government official the prepared ARC, office lease agreement, passport, and application form.
The government official will give you a receipt to confirm the application has been received.
Once notified by text message, you must visit the tax office again to receive your company registration document (AKA business license).
Note: The tax office may call you to verify your identity and business details in Korean. Therefore try to have a Korean friend or co-worker nearby to help you with the call.
Step 4: Bank Setup
Once you have completed your business registration, you will be able to set up your business bank account.
Unfortunately, many banks will only provide business banking in Korea.
Preparation Stage 
You will likely need the following documents:
Passport
ARC Card
Office lease agreement
House contract (if any)
Job contract or sales/business agreement with a client
Your home country tax number, like SSN / tax file number, etc, (if any)
(For Americans Only): You will need to fill out FBAR/FATCA form provided by the bank
Be ready to download the bank app
Process Stage
Once you have prepared the above documents, you will now be able to visit a branch of your choice. No appointment is required. However, remember that not all Korean banks offer English banking applications. Therefore, we recommend you consider Hana, IBK, Shinhan, or KB. Moreover, these banks do provide English banking applications.
Here are the next steps to take:
Visit your chosen bank branch
Collect a number from the service machine nearby the entry, and choose the category for business banking.
Explain to your teller that you would like to open a business transaction account.
Complete and sign the paperwork provided by the bank teller where directed. For many banks, this will be shown on a tablet device with a stylus.
Choose your banking PIN number using the provided machine at the teller's desk.
Ask for assistance in setting up phone application banking.
Once the above steps are completed, the banking teller will provide you with:
Passbook for your company bank account
Security code card (a paper or electronic card with one-time password OTP numbers on the bank or a button to generate an OTP)
Below is a sample of a passbook & OTP.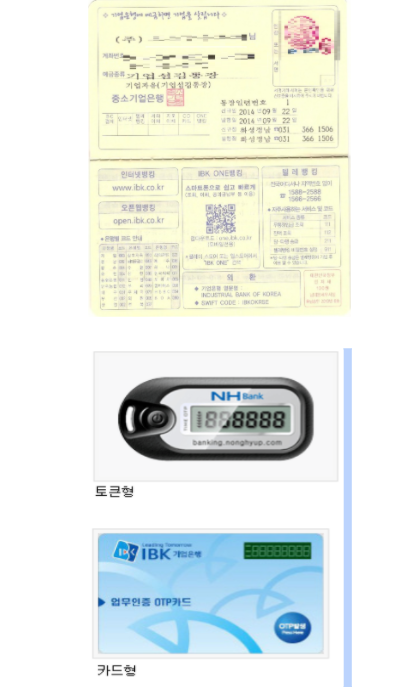 Step 5: Basic Ongoing Obligations
Once you set up a business in Korea, whether it is profitable or not you must be tax compliant. Keeping tax compliant means the following tax returns are required to be submitted on time. Filing your taxes in Korea for foreigners can be a complicated process. Therefore, it is highly recommended you have a tax accountant you can trust.
Vat filing
Due every 3 months for Corporations
Due every 6 months for Sole-proprietorships (Individual Companies)
Yearly income tax returns
Due March 31st for Corporations
Due May 31st for sole-proprietors and contractors
Salary / Contractor / Part-timer Pay Reports (AKA Withholding Tax Returns)
Due monthly on the 10th for the previous month
National Social Insurances (Various)
These vary by each business and have an array of requirements, but include pension, health, unemployment, and industry disaster insurance filings and payments.
Note: For a tailored compliance plan, talk to your financial or legal professional.
Congratulations on setting up a business in Korea! We wish you the best for your businesses' success in Korea.
HANA TAX: Helping Foreigners do Business in Korea
For Business Setup or Tax Consultations, contact us here:
https://www.taxinkorea.com/appointments/
Or by email: christie@hanatax.net
Christie Lee CPA
Suite 301, 72
Nonhyeon-ro 79-gil
Gangnam-gu, Seoul
Republic of Korea 06239
---
Christie Lee is a contributor at Seoulz and is a US-certified public accountant and Korean tax expert with over nineteen years of experience. She leads the International Taxation Team at Hana Tax Management Corporation, one of the largest tax and accounting firms in Korea. She has consulted with over 90 multinational corporations and done over 80 seminars regarding accounting and tax-related issues at Seoul Global Center, Korea Technology Venture Foundation (KTVF), Korea Engineering and Consulting Association (KENCA), and many embassies. Check her website on www.taxinkorea.com and email her at christie@hanatax.net for a consultation.
All author posts