China has made headlines in the cryptocurrency industry with the news they are planning to launch their own cryptocurrency in 2020. The mayor of Seoul announced back in 2018 that he wanted to launch the S-Coin for Seoul's public services such as transportation. It looks that this could become a reality sometime in 2020. The S-Coin will be programmed by the Korean government with the help of Samsung SDS and ICONLOOP.
How will the S-Coin in Seoul work?
Residents livings in Seoul will get S-Coins by doing municipal services. These municipals' services include participating in public polls and paying their taxes. In addition, the S-Coin could be used as a youth allowance in Seoul. The S-Coin can be redeemed at convenience stores all across Seoul. In addition, the S-Coin will be integrated with ZeroPay (Seoul's sponsored QR-code-enabled network). It allows residents in Seoul to pay for their goods and services using their smartphones. So far 14 public services will be the first organizations and programs to use S-Coin. These include document administration, labor welfare, and vehicle registration just to name a few.
"As Seoul is the world's leading city in the field of information and communications, including the 4th Industrial Revolution, I think we should study new technologies such as Blockchains." said the Mayor of Seoul, Park Won-soon.
The Seoul government expects that the S-Coin will be a crucial first step in making Seoul into Asia's first smart city. The Korean president, Moon Jae-in, is supportive of Blockchain technologies for Korea. He wants to create real use cases such as Seoul's S-Coin to greatly contribute to the revitalization of Korea's economy.
ICONLOOP and Seoul to Build New Blockchain Services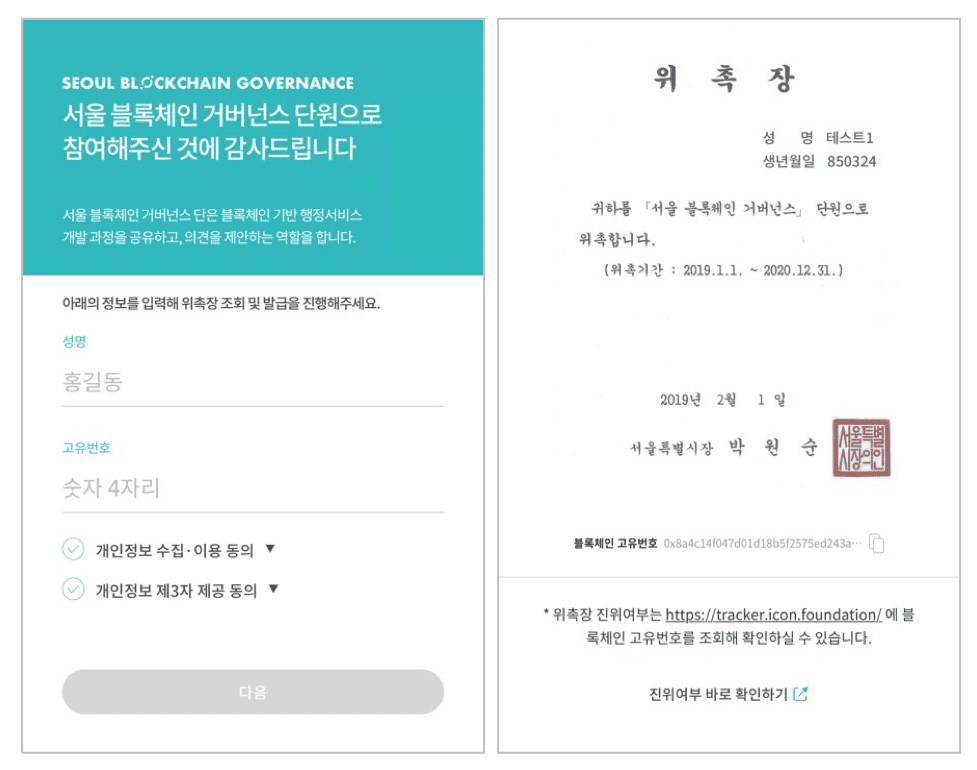 ICONLOOP will work with Seoul to develop a Seoul Citizens Card that will offer digital authentication for the use of public services. In addition, they will work together to create an easier way for temporary employees to sign contracts with their employers. The Blockchain-based system will keep track of their work history, timesheets, and help them register for insurance programs in Korea. Furthermore, they will look into donation management, healthcare management, and online certificate verification in the future.
Seoul to Become a Smart City by 2022
The Seoul government aims to turn Seoul into a Blockchain-based Smart City by 2022. This means in 2022, citizens living in Seoul will be using the S-Coin as part of a citizen's reward system. Their budget to make this a reality is a little over $100 million. Besides the rewards system, the Seoul Citizens Card will also be improved with Blockchain. Blockchain technology will allow for easy verification for citizens in Seoul who need to use certain public services.
The services include Blockchain for healthcare, authentication of credentials, and also to make donations as transparent as possible. The Blockchain system as a whole will be fully owned by the Korean government but run by the private sector. In addition, in Gyeonggi-do, they held the 2020 Korea Basic Income Fair which explained the Youth Basic Income Program which gave 24 year olds in Gyeonggi local currency in the form of a prepaid card.
Two Complexes for Blockchain Startups in Seoul for 2021
Seoul's Mayor announced that it will spend $53 million to build two complexes for over 200 Blockchain startups in Seoul.
Blockchain in Seoul
The launch of S-Coin will only be the start of incorporating Blockchain technologies in the city. Seoul already has partnered with Samsung SDS. Eventually, they will work together to use the S-Coin as a payment method for Seoul's welfare programs. The end goal is to allow residents in Seoul to vote online and challenge parking tickets from the comfort of their homes. Blockchain technology can make it easier for residents in Seoul to fill out online applications by storing their personal data such as name, date of birth, bank accounts, etc, on the Blockchain. Seoul is also developing an identity document for use within the National Blockchain system. This will allow for Blockchain startups in Korea to have an infrastructure in place to allow for innovation and growth.
---
John is the Founder of Seoulz. He has covered the startup, tech & blockchain scene for over 7 years and has written over 700 articles regarding the Korean startup ecosystem. John is also a Web Developer and certified AWS Solutions Architect. Email him at john@seoulz.com
All author posts