IEOC – International Esports Omnipo Committee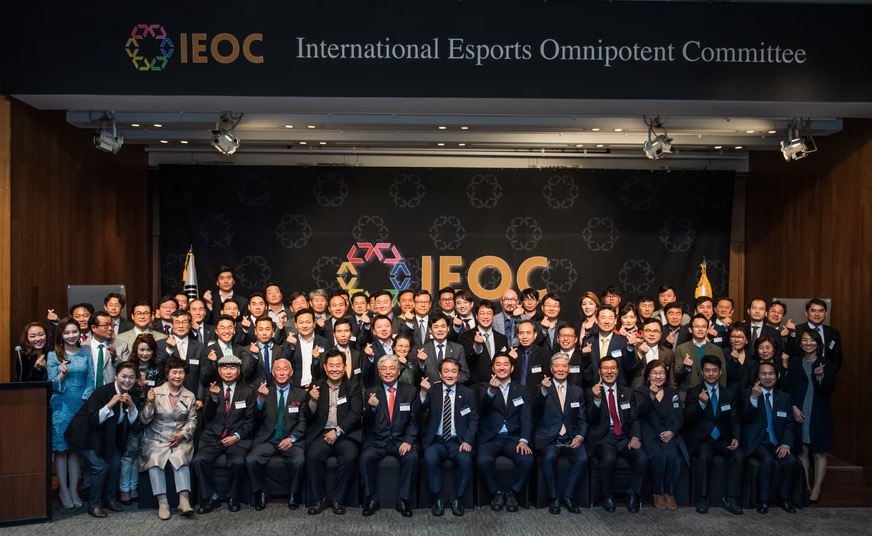 The IEOC was founded in London, UK in 2019 by Harvard graduate Kent Kim. IEOC stands for International Esports Omnipo Committee. Their aim is to promote Esports by hosting Olympic-like Tournaments around the world. Many feel that the future of all sports will eventually be Esports. Currently, real live sports are far bigger than Esports. However, the growth of Esports over the fast years has been impressive. In might shock many to learn that the global audience for Esports is over 300 million fans and growing. Esports is here to stay. Every year, Esports events around the world attract more and more advertisers, players, and viewers.
The potential of Esports can be seen through the consumers. With the growth of technology, consumers no longer just want to watch sports but be a part of it. Esports perfectly integrates these two worlds together. When you add in virtual reality, gaming experiences will turn Esports into active experiences for consumers. This is not a matter of if, but when. The Olympic Committee is even taking into consideration for allowing Esports into the Olympics. In fact, an article in Forbes projects that Esports will be an Olympic sport as soon as Paris 2024. Esports is already being considered for the Asian Games in Hangzhou, China in 2022.
IEOC Representatives in over 70 Countries
The IEOC sees the potential of Esports and is taking early steps to be the top global committee for the promotion of Esports. They already have IEOC representatives in over 70 countries. This goes to show just how much Esports has grown over the years. They have grown faster than any sport in history. All around the world Esports professional leagues are springing up every year. Even colleges and Universities are giving scholarships for Esports. In addition, investments into Esports is at an all-time high as exclusive broadcasting/digital rights, sponsorships, prize money, and the number of pro-gamers continue to grow.
A Truly Global Sport
What makes Esports "extra" global is that each game within Esports have their own set of fans and following. For example, the majority of Pro-gamers do not focus on games related to real sports. The most popular Esports seems to be a multiplayer online battle arena (MOBA) games. These games include Dota 2 and League of Legends (LoL). This makes sense, the appeal to play real sports games online is low when you can be in a war, fight monsters, or aliens. Therefore, these worlds are something everyone can be a part of. You don't have to understand the NFL, Cricket, Taekwondo, etc….all are on an equal playing field. Esports connects gamers under the age of 30 irrespective of their location. This is why the potential for Esports tournaments is huge. There will be heavy competition from YouTube, Facebook, Amazon, and even streaming platforms like Netflicks and Hulu for exclusive distribution rights. A single Tournament Final has the potential to generate over 300 million viewers! Compare this to the SuperBowl which grew 100 million viewers in 2020.
IEOC to Host the 1st International Esports Omnipo in Tokyo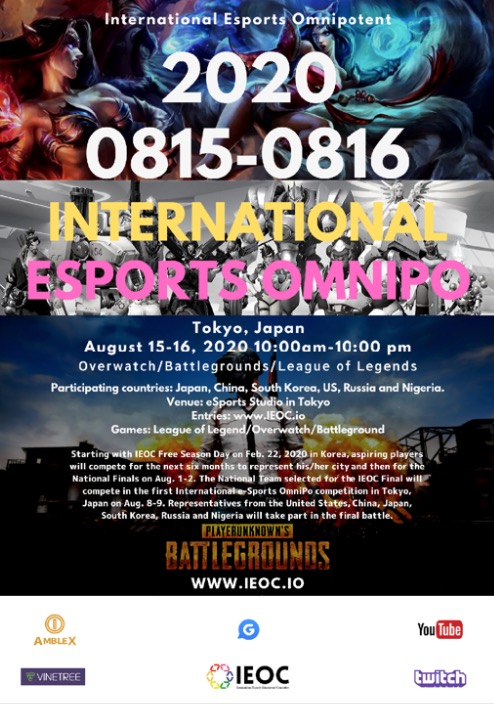 The IEOC will host its first international Esports tournament in Tokyo, Japan on August 15-16. This is perfect timing as the Tokyo Summer Olympics 2020 ends on August 9th. Therefore Toyko is the perfect location for the IEOC to hold its first Esports Omnipo tournament. In addition, Japan is the home of Nintendo and there is still a strong passion for console games. Therefore, there is a great opportunity to grow the PC/Mobile platform games such as League of Legend and Overwatch in Japan. Japan is a great untapped market for online/mobile game publishers.
Currently, IEOC will bring in 8 national teams. National teams from Japan, the United States, China, Korea, Russia, Nigeria, and more will compete. These countries will battle it out in 5 of the top Esports games. These games include League of Legends, Overwatch, Battleground, Street Fighter 5, and Smash Brothers.
The Future of Esports – From Console to Online to Mobile to VR
While console games are still popular in Japan, the world has pretty much transitioned into online gaming. The IEOC aims to offer all forms of Esports games in the future including mobile games. Many in the Esports industry see the future of Esports will be on mobile before moving on to VR. It is estimated that close to 5.5 billion people all over the world will have a smartphone by 2022. Therefore mobile is the future of Esports to bring in new players, advertisers, and fans. Mobile games do have their limitations due to their small screens and limited graphics compared to computer online games. This is where VR will come into play. VR will be able to combine the mental/strategic side of Esports with the physical. Fans will be able to watch epic battles from the comfort of the homes through their VR headset. Why go to an Esports event when you can be in the Esports Arena Virtually.
It is hard to predict the future of Esports. Esports is an infinitely promising yet rapidly-changing industry. One thing is for sure, people will continue to watch and play games, whether it is on their smartphones, computers, or VR. Therefore there will be a growing number of viewers and players that will continue to increase the popularity of Esports. As popularity grows, so will revenue. The fact that anyone around the world can join makes Esports the future of Sports.
---
John is the Founder of Seoulz. He has covered the startup, tech & blockchain scene for over 7 years and has written over 700 articles regarding the Korean startup ecosystem. John is also a Web Developer and certified AWS Solutions Architect. Email him at john@seoulz.com
All author posts